Ring Guards (Ring Sizers) solve your ring size problems instantly.
Once your ring guard is on, and you have pushed up on the guard's band, your ring is sized! You can now wear your cherished ring in confidence.
All Rings must be large enough to fit over the knuckle, but then often tend to be TOO large to sit upright on the finger.
Stones can make a ring top heavy, and they tend to "roll" or "spin" so the stones are not shown properly (often ending up on the palm side of your hand). If your ring is too loose after passing your knuckle this "ring spinning" is even greater. Sometimes spinning right OFF your finger! Ring Guards solve that problem!
Our "Monte Carlo" Ring Guards are available in white or yellow 14 KT gold filled.
Ring Sizing Problems and Ring Guard Solutions
Loose Rings
Rings can be too big or loose due to weight loss or temperature changes. We all know rings tend to fit differently depending on weather or other factors - and sizing a ring just wont work for those days your fingers are swollen.
Children's rings that are too Big
Ring guards are easy to put on and take off. Let your children wear rings for special occassions without worry about it getting lost. Remove the ring guard when the ring begins to fit properly on your childs finger.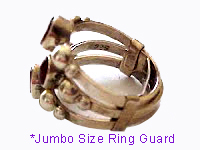 Rings that fit over the knuckle
Rings need to pass over the knuckle but always tend to slide on the finger. Ring guards can be adjusted for a tighter fit after passing the knuckle. Keep your stones upright by slightly pressing up on the "wrap" while the ring is on your finger.
Engraved Rings
When you're concerned that the engraving may be cut off with sizing. Don't lose that special engraving! Ring guards are 14K gold filled and leave your engraving untouched.
Occasional swelling of Fingers
Ring guards can be adjusted easily when a tighter fit is needed. Swelling of the ring finger can occur for many reasons, including the weather
When you need temporary fast ring sizing
Many brides have ordered ring guards so they can wear their ring on the day of the wedding (even if their husband-to-be bought the wrong size!).
*Join more then one ring together
Get creative, refresh your jewelry with a new look or join your wedding band and engagement ring together with our Large or Jumbo sized ring guards.
What Size Ring Guard / Ring Clip do I buy?
It is hard to be able to provide exact sizing as each ring has a different width, depth and girth. The Size of the ring guard depends on the ring band (not ring size). The "arms" of the guard (size adjuster) must wrap to the inside of the ring. If you're unsure or have rings with different types of bands - try our mixed pack Info on The Different Ring Guard Sizes
Small/Ladies Size Ring Guards / Ring Resizer $5

Small size ring guards are best for childrens rings, or thin banded womens rings such as the typical womens engagement ring band. 14K gold filled for added strength. Order the Small Sized Ring Size Adjusters

Medium/Mens Size Ring Guards / Ring Resizer $5.25

Medium size ring guards are best for a thick banded women's rings and regular men's ring bands. See our ring clip size measurement guide for more information. 14k gold filled for added strength Order the Medium Sized Ring Guard.

For Large/Thicker banded Rings $5.50

Large size ring guards are best for a thick banded men's ring or to join a wedding band with engagement ring. 14k gold filled for added strength. Unsure of what size ring guard to buy? Check our ring guard measurement chart for more information Order the Large Sized Ring Guard.

Jumbo Sized Ring Guards / Ring Resizer $8

Jumbo size ring guards are best for class rings with thick bands. Can be used to connect 2-3 rings together - great for big bulky costum jewelry type rings. 14K gold filled for added strength. Order the Jumbo Sized Ring Guard.

Mixed Pack of Ring Guard Sizes $12.75

Not sure about the size of ring size adjuster to buy? Now you can order a mix of Small, Medium and Large Ring Guard (1 ea.) 14K gold filled for added strength. Order the Mixed Pack of Ring Guards.
Will Ring Inserts be Easy to Put on Myself?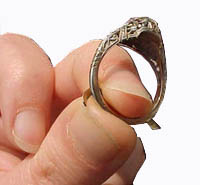 All you need is a pair of pliers (or strong flat tweezers) to bend the ring guard around the band. Once the ring guard is in place just push up on the ring wrap to adjust the size.
This ring guard video will show you exactly how to put on and adjust your ring size instantly. No downloading needed...(ring guard video) IT'S THAT EASY! Easy to remove as well.
Ring Guards come in 4 Sizes: Small, Medium, Large and Jumbo Sized. Not sure about the correct ring guard size to buy? Now you can order a mix of Small, Medium and Large Ring Guards (Jumbo not included). For $12.75! Size Adjuster Instruction Video
Magnetic Clasps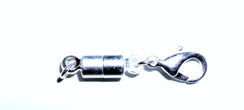 A Trouble-Free Way To Fasten Your Own Necklace Clasp!
Magnetic clasp converters quickly and easily modify most finished necklaces into magnetic clasp necklaces.
Easily used by people who have difficulty opening and closing conventional clasps.
Strong Magnetic Clasps
Safety Chains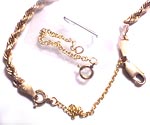 4 styles to choose from! Including our most popular safety chain with spring clasps on both ends.
12k gold filled- yellow
Prevents loss, in case the main clasp should open or break
Double clasp style is great to extend the length of a chain
Crafted with pride in the USA Order Safety Chain Clasps
Bra Clips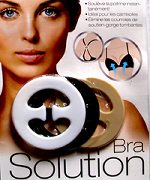 Provide greater lift and support, reduce shoulder indentions and discomfort and eliminate falling bra straps.
Great to hide Bra Straps when wearing tank type or sleeveless tops. To increase dramatic results of cleavage use a bra clip with your favorite under wire bra
Read more..